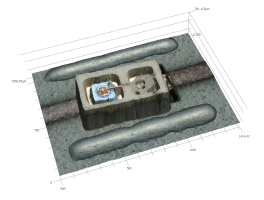 To optimize a novel process for contacting highly miniaturized electrical and optoelectronic components, a wide range of influences must be systematically analyzed and quantified.
The aim of this work is to investigate various sintering processes for the optimization of this process, which uses silver nanoparticle suspensions for contacting electrical components. For this purpose, using statistical experimental design, a number of influencing parameters are varied and their influence on the resulting connection is investigated. The joints are analyzed with the aid of electrical, mechanical and optical test methods.
Within the scope of this work, students are instructed in the work to be carried out and are accompanied during the initial experimental runs.
The extent of this course work can be adapted for BA, PA or MA.
Requirements
Independent, conscientious way of working
Communication skills
Basic knowledge of statistics
Very good knowledge of German or English
Work content
Design of statistical test plans
Execution of sintering tests
Electrical and mechanical characterization of products
Statistical evaluation of the results
In case of interest
For more information, contact Christian Voigt.
Application by email with curriculum vitae and current grades to: Christian.Voigt@faps.fau.de
Categories:
Research Sector:
Electronics Production
Type of thesis:
Bachelor Thesis, Master Thesis, Project Thesis
Contact:
Department of Mechanical Engineering
Institute for Factory Automation and Production Systems (FAPS, Prof. Franke)