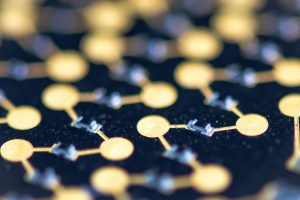 Initial situation
The progressive miniaturisation of electronic products and their components poses ever new challenges for electronics production. This includes the contacting of components. Conventional stencil printing of solder paste is unsuitable for future generation of highly miniaturised components. Therefore, new processes have to be investigated as potential alternatives.
Task
Within the scope of this work, the processes of inkjet, piezojet and e-inkjet printing as well as corresponding printing media containing silver nanoparticles and microparticles are to be investigated for their suitability for contacting electrical components of the size 125 x 250 µm.
For this purpose, an investigation of the joining partners is first to be carried out on the basis of an example assembly and a systematic literature research is to be carried out with the framework conditions determined in the process. Finally, the results of this research are to be evaluated with regard to their suitability for solving the problem.
Familiarisation with printed electronics
Analysis of the joining partners using laser scanning and scanning electron microscopy
Statistical evaluation of the results
Carrying out a systematic literature search
Systematic evaluation of the results
Requirements and previous knowledge
Conscientious and independent way of working
Very good knowledge of English
Clean and complete documentation of all results
If interested
For further information please contact Christian Voigt.
Application by email with CV and current overview of grades to: Christian.Voigt@faps.fau.de
Categories:
Research Sector:
Electronics Production
Type of thesis:
Bachelor Thesis, Project Thesis
Contact:
Department of Mechanical Engineering
Institute for Factory Automation and Production Systems (FAPS, Prof. Franke)