Definition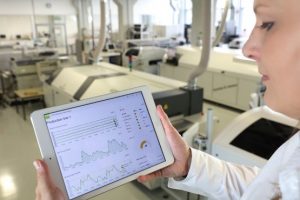 In the context of Industry 4.0, interconnected systems and intelligent products are generating ever-increasing amounts of data. Using statistical methods and machine learning techniques, it is possible to analyze this data profitably and to generate knowledge from it. The knowledge must again be represented and linked in such a way that existing data silos can be broken down, a consistent data integration can be established and user-friendly applications can be implemented.
Vision
The new technology field supports the industry in developing data-driven solutions for process optimization and making the resulting process knowledge available across the individual domains.
Focus areas
Intelligent Data Analysis:
Data acquisition by sensors and IoT devices
Digital signal processing and data integration
Data Analytics and Data Mining
Machine Learning and Knowledge Discovery
Information Systems:
Data management and database systems
Service and Platform Ecosystems
Semantic technologies (ontologies etc.)
Expert systems and knowledge management
Application fields
Data-driven process optimization in an industry 4.0 environment, condition monitoring, predictive maintenance, knowledge-based configurators in engineering, etc.
Members