Definition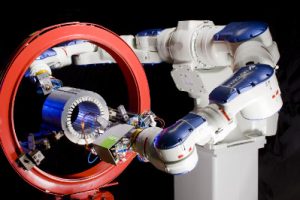 Across departments and groups, the technology field "Handling and Assembly Technology" bundles the competencies of the employees from the eponymous areas. This includes in-depth process knowledge regarding the specific requirements for the added value of mechatronic products and systems, in particular in the fields of electronics production, electric motor production, biomechatronics and efficient systems.
Vision
‪The technology field combines in-depth knowledge of the applicable robots and handling devices, their control and motion planning as well as the application-related necessary actuators and sensors. Through a cross-group dialogue, there is a sustainable transfer of knowledge and the possibility of developing alternative solutions.
Focus areas
‪Robots
Handling equipment
New and alternative kinematics
Mobile robot systems
Online and offline programming
Griffin technologies
Process Tools
Sensors
Actuators
Manual assembly
Autonomous railway planning
Motion planning
Bionic systems
Magnet mounting
Winding assembly
Assembly of electronic components
Accuracy enhancement of kinematics
Human robot cooperation
Printing technologies for 3D-MID
Dismantling
Connection technologies
Member
We could not find any entry in the category .