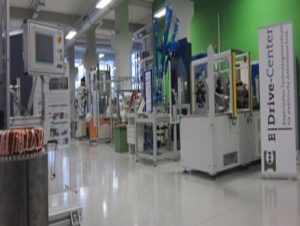 The "E|DriveCenter" (Bavarian Technology Center for Electrical Drives) of the Institute FAPS, innovates drive concepts and the related production technologies. These developments are aimed to be transfered from the scientific findings to industrial applications. The key activities of the E|Drive Center are the analysis and optimization of the production-oriented construction and the production process design of components and systems for Electrical drives. Furthermore, the manufacturing and testing processes are addressed for the components of inductive charge electric vehicles.
The E|Drive center perfectly fits in the cluster initiatives for Mechatronics, Automation, Automotive and Environmental technology. The center supports the Automotive industry in the increasing usage of electric drive systems for the vehicles, and it improves the knowledge transfer in the field of Electric drive technology in Bavarian industries.
Since May 2010, numerous research and industrial projects has been started and completed. Furthermore, several seminars, presentations, lectures and technological presentations with numerous inventions have been submitted. The E|Drive Center organizes the "International Electric Drives Production Conference" (E|DPC), a unique international congress in the field of electromechanical engineering.
To further development of the institute, since 2011, the group has moved to the new laboratory location in Nuremberg "Auf AEG".
Contact