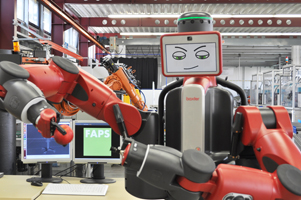 Customized Automation in the Production
The development of efficient processes is particularly challenging in the manufacturing of products with an increasing share of electronics and software. At FAPS, the guiding principle for the development of handling, assembly and material flow systems is "Custom Automation". The term describes the appropriate use of automated manufacturing processes in compliance with the requirements of a customized and highly flexible process. This includes hybrid systems with manual and automated work stations as well as assistive system approaches such as human-robot interaction.
Automation Technology in Medicine
Applying intelligent automation solutions to the clinical environment can make a significant improvement in health care. The transfer of methods and technologies from the "classical" automation technology to medical solutions is a significant topic but it is little investigated, so far. Meeting the specific medical requirements – technologies such as robotics, sensor systems and software solutions for the planning of clinical workflows can help to improve the efficiency and quality of medical services.
In this challenging environment, FAPS is developing new concepts and solutions in close collaboration with medical technology companies and clinical users.