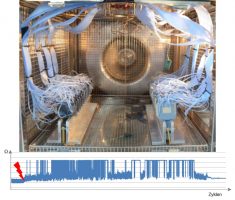 ---
Project description
The NiMm3 project addresses the investigation of nickel-free metallization systems on various substrate materials in order to prevent microcracks in the metallization and delamination, which are the two main causes of failure in mechatronic integrated devices (MID). In this context, three main research topics are considered which build on each other:
(i) investigation of the interaction between substrate and copper metallization.
ii) Design and characterization of nickel-free layer systems
iii) Investigation of the packaging and reliability of MID circuit carriers.
The results obtained for nickel-free circuit carriers with increased reliability extend VDI/VDE Guideline 3719 on the manufacture of MIDs, which was drawn up by Technical Committee 5.6 of the Society for Microelectronics, Microsystems and Precision Engineering (GMM). The user group of these research results is to be seen in particular with SMEs, since many enterprises in the manufacturing chain, e.g. service providers in the tool construction, injection molding, laser structuring and metallization belong to the SMEs. These do not have the capabilities for such fundamental work or cover only parts of the process chain, which makes it difficult to understand the complex interaction of factors along the process chain. Through the planned NiMm3 project, which looks at the entire process chain across all sectors, SMEs can increase their manufacturing and resource efficiency in a cost-neutral or cost-effective manner, improve their product quality and expand their portfolio. The latter is particularly the case for SMEs in the area of metallization, which can offer other nickel-free coating systems for MID in addition to the classic ENIG (Electroless Nickel Immersion Gold) plating. In addition, especially for large metallization areas, the use of silver or organic passivation (OSP), for example, as a replacement for the established but expensive ENIGFinish is economically very attractive.
The IGF-Project 21862 N of the Forschungsvereinigung Räumliche Elektronische Baugruppen 3-D MID e.V. is funded by the Federal Ministry for Economic Affairs and Climate Action (BMWK) via the AiF within the framework of the program for the promotion of joint industrial research (IGF) based on a resolution of the German Bundestag. The project is being carried out in cooperation with the Hahn-Schickard research institute in Stuttgart under the direction of Prof. Dr.-Ing. André Zimmermann. The project is accompanied by an extensive industrial committee consisting of 18 companies from users and all areas of the MID value chain, which underlines the industrial relevance of the research topic.