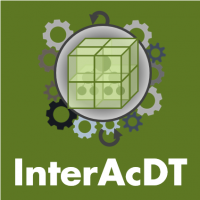 ---
Project description
InterAcDT pursues further development of the "Digital Twin" for planning and optimization of production facilities. Through targeted development, combination and integration of technologies from the fields of simulation, AI as well as VR/AR, the Digital Twin of the production resource is:
functionally extended,
made available to a wider range of users via new interaction methods and the use of web technologies,
and illustrated and made accessible with an accompanying application methodology.
Thus, the interaction with the digital plant twin, which is currently monopolized by simulation experts, is to be developed into an approach of collaborative use of digital twins. The resulting, collaboratively usable digital twin of a plant with new optimization functions enables an increase in the quality of planning and an economical production of, for example, new types of drive technologies in Germany.