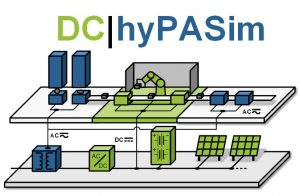 ---
Project description
The DC|hyPASim project aims to identify and harness unused energy saving potential in the manufacturing industry. In the course of this, technical measures to control the natural fluctuation of renewable energy sources will be evaluated in the context of future energy supply. Overall, investment costs will be reduced (by eliminating a large number of power supply units and converters), energy consumption will be lowered (by reducing power conversion processes), companies' ability to innovate will be strengthened (by means of new products) and a path to CO2-neutral production will be shown. To achieve this goal, DC grids or hybrid structures consisting of DC and AC grids are used, with which, for example, regenerative energy or recuperation energy from electric drives can be exchanged or stored efficiently and intelligently.
In the project digital models will be used to test how DC branches can be linked to industrial networks in a time- and cost-efficient manner. The usable result will be a digital planning landscape and a prototype implementation of the concept. The feasibility of the new supply concept will be tested by means of a demonstrator system to be developed for decentralised DC grid branches with generators, storage units and consumers.
DC|hyPASim is funded as part of the AiF call for proposals "Leading Technologies for the Energy Transition".
Furthermore, the project advisory committee consists of more than 30 partners from industry and renowned research associations.
Addressed research focus areas
Dimensioning of hybrid AC/DC energy grids with generators, storage units and consumers based on an own DC demonstrator
Planning landscape with digital twin
Linking the electrical system behaviour (energy level) with the digital models of the production facilities (process level)
Holistic protection and control concept for hybrid network architectures
Software-based economic assessment of such networks